Acer V55LA-2 Motherboard
Jumper and Connector Layout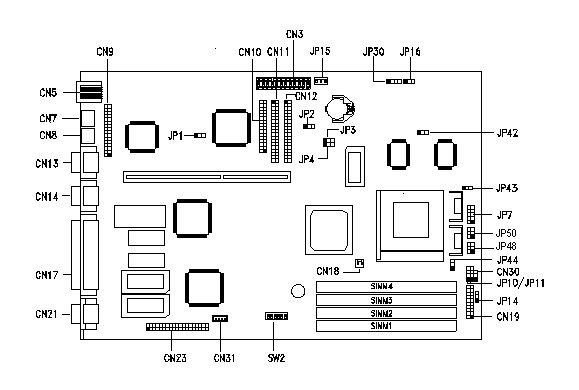 Note - The blackened pin of a jumper represents pin 1.
Specification
The V55LA system has the following features -
ZIF socket 7 for an Intel Pentium 75/90/100/120/133/150/166/200MHz including MMX. Also support for Cyrix M1/M2 and AMD K5/K6 CPUs.
Four 72-pin SIMM sockets that support 4/8/16/32-MB 60/70ns fast page mode or EDO SIMMS.
256K pipeline-burst second level cache onboard which is not upgradeable.
1-MB video memory plus upgrade sockets for a further 1-MB (some systems shipped with the 1-MB upgrade fitted). The chips needed for the upgrade are - 2 of 514260ASL 256Kb x 16 70ns SOJ.
128K BIOS which is APM and Year 2000 compliant.
Two Enhanced IDE interfaces supporting a total of four devices including hard drives and CDROMs.
External ports.

PS/2 keyboard and mouse ports.
Two high-speed (NS16C550 compatible) serial ports.
One ECP/EPP high-speed parallel port.
VGA port.

Onboard chipsets.

Aladdin III system chipset (equivalent to Intel Triton II).
ATI Mach64 VT or GT (Rage II) PCI graphics adapter.
ALI 1523B E-IDE and I/O controller

Plug and Play support.
Power management features (device standby, global standby).
USB support.
CPU Jumper Settings
SW2 Settings
CPU Freq,
1
2
3
4
Intel Pentium
75 MHz
ON
ON
OFF
OFF
90 MHz
ON
OFF
OFF
OFF
100 MHz
OFF
ON
OFF
OFF
120 MHz
ON
OFF
ON
OFF
133 MHz
OFF
ON
ON
OFF
150 MHz
ON
OFF
ON
ON
166 MHz
OFF
ON
ON
ON
200MHz
OFF
ON
OFF
ON
NBSet JP43 and JP44 2-3. For P54C set JP7 Closed, for P55C (MMX) set JP7 Open
Cyrix/IBM M1
Cyrix/IBM P120+
ON
ON
ON
OFF
Cyrix/IBM P150+
ON
OFF
ON
OFF
Cyrix/IBM P166+
OFF
ON
ON
OFF
NB Set JP43 and JP44 2-3. For 6x86 set JP7 Closed, for 6x86L set JP7 Open
Cyrix M2
Cyrix M2 PR166
OFF
ON
ON
ON
Cyrix M2 PR180
ON
OFF
OFF
ON
Cyrix M2 PR200
OFF
ON
OFF
ON
NB Set JP43 and P44 2-3, JP7 Open
AMD K5
PR75
ON
ON
OFF
OFF
PR90
ON
OFF
OFF
OFF
PR100
OFF
ON
OFF
OFF
PR120
ON
OFF
ON
OFF
PR133
OFF
ON
ON
OFF
PR166
OFF
ON
ON
ON
NBSet JP43 1-2, JP44 2-3, JP7 Closed
AMD K6
PR166
OFF
ON
ON
ON
PR200
OFF
ON
OFF
ON
PR233
OFF
ON
OFF
OFF
NBSet JP43 2-3, JP44 1-2, JP7 Open
SW2 Settings
Switch
Setting
Function
Sound Feature
Switch 5
ON
OFF
Onboard sound chip disabled
Onboard sound chip enabled
Password Security
Switch 6
ON
OFF
Password bypass
Password check
Jumper Settings
Jumper
Setting
Function
JP1 BIOS Type
1-2
2-3
For models with Acer BIOS
For models with OEM BIOS
JP2 LED Function
1-2
2-3
LED for IDE and FDD
LED for IDE only
JP3, JP4 Second-level Cache
1-2, 1-2
1-2, 2-3
2-3, 2-3
256 KB
512 KB
1 MB
JP7 Regulator
Closed
Open
For CPUs using one voltage (P54C)
For CPUs using two voltages (P55C)
JP11 SMM/Reset Switch
1-2
2-3
3-4
Supports SMM switch
Supports reset switch
Funct as additional reset switch conn
JP16 Software Shutdown
1-2
2-3
UPS enabled
UPS disabled
CPU Voltage
JP43 (for I/O)

JP44 (for core)

1-2
2-3

1-2
2-3

3.5V
3.3V

2.5V
2.8V
Connector Functions
| Connector | Function |
| --- | --- |
| CN3 | Power connector |
| CN5 | USB Connector |
| CN7 | PS/2 keyboard connector |
| CN8 | PS/2 mouse connector |
| CN10 | Diskette drive connector |
| CN11 | IDE connector 2 |
| CN12 | IDE connector 1 |
| CN13 | Serial port 1 |
| CN14 | Serial port 2 |
| CN17 | Parallel port |
| CN18 | CPU fan connector |
| CN21 | Video port |
| CN23 | ATI multimedia connector (AMC) |
| CN30 | Reset switch connector (pins 1-2) |
| JP10 | Hard disk and diskette drive LED connector |
| JP14 | Power-on switch connector (pins 1-2) |
| JP15 | Standby power connector |
| JP30 | External battery connector |
The multifunction connector CN19 accommodates the front panel connectors for speaker, LEDs, keylock, reset, and turbo. Figure below shows the pin assignments for each connector.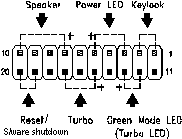 Memory
Memory Module : 72pin EDO 60 or 70ns Maximum : 128MB
Video RAM Upgrade
Video Memory can be upgraded from 1MB to 2MB, by inserting 2 of 514260ASL 256Kb x 16 70ns SOJ in sockets U3, U4
---
---