Acer V58LA Motherboard
Jumper and Connector Layout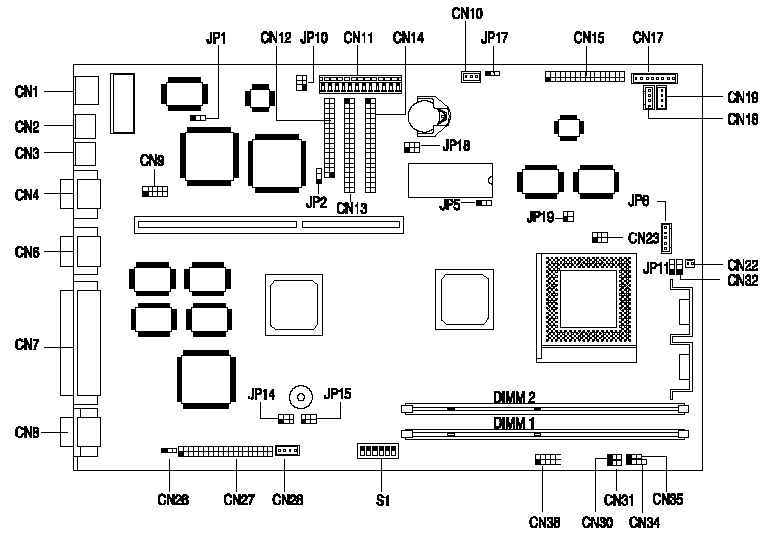 Note - The blackened pin of a jumper represents pin 1.
Specification
The V58LA system has the following features -
ZIF socket 7 for an Intel Pentium 90/100/120/133/150/166/200/233MHz including MMX, Cyrix/IBM M1/M2 and AMD K5/K6.
Two 168-pin DIMM sockets that support 8/16/32/64/128-MB 10/12ns 3.3V SDRAM modules. Upgradable to a maximum of 256 MB
256K pipeline-burst second level cache onboard which is not upgradeable.
1-MB video memory.
256K BIOS which is APM and Year 2000 compliant.
Two Enhanced IDE interfaces supporting a total of four devices including UltraDMA hard drives and ATAPI CDROMs.
External ports -

PS/2 keyboard and mouse ports.
One high-speed (NS16C550 compatible) serial port.
One ECP/EPP high-speed parallel port.
VGA port.
Two universal serial bus ports.

Onboard chipsets -

Aladdin IV system chipset (equivalent to Intel Triton TX) with integrated E-IDE.
ATI Mach64 GT(Rage II) PCI graphics adapter.
SMC 37C93x I/O controller.

Plug and Play support.
Power management features (device standby, global standby).
How do I access my BIOS?
You can access the BIOS by pressing CTRL+ALT+ESC as the system is booting. At the bottom of the second start up screen you should see "To enter setup, press CTRL_ALT_ESC".
Note: If the system displays the Acer Splash Screen, once you hear the beep, you should begin pressing CTRL+ALT+ESC. You may need to press CTRL+ALT+ESC continuously until you access the BIOS setup screen.
How do I enable the USB port?
The USB function is enabled in the BIOS by pressing Ctrl+Alt+Esc at start up to access the BIOS before the Windows operating system begins to load. Then select On Board Peripherals Configurations then page down to view the next page and set the USB Host Controller to [Enabled].
CPU Jumper Settings
CPU Freq
JP14
JP15
CN23
S1 Settings
4
5
Intel Pentium
90 MHz
1-3, 2-4
1-3, 2-4
1-3, 2-4
OFF
OFF
100 MHz
1-3, 2-4
3-5, 4-6
1-3, 2-4
OFF
OFF
120 MHz
1-3, 2-4
1-3, 2-4
1-3, 2-4
OFF
ON
133 MHz
1-3, 2-4
3-5, 4-6
1-3, 2-4
OFF
ON
150 MHz
1-3, 2-4
1-3, 2-4
1-3, 2-4
ON
ON
166 MHz
1-3, 2-4
3-5, 4-6
1-3, 2-4
ON
ON
200 MHz
1-3, 2-4
3-5, 4-6
1-3, 2-4
ON
OFF
MMX 166MHz
1-3, 2-4
3-5, 4-6
3-5, 4-6
ON
ON
MMX 200MHz
1-3, 2-4
3-5, 4-6
3-5, 4-6
ON
OFF
MMX 233MHz
1-3, 2-4
3-5, 4-6
3-5, 4-6
OFF
OFF
Cyrix/IBM 6x86
Cyrix/IBM P150+
1-3, 2-4
1-3, 2-4
1-3, 2-4
OFF
ON
Cyrix/IBM P166+
1-3, 2-4
3-5, 4-6
1-3, 2-4
OFF
ON
Cyrix /IBM 6x86L
Cyrix/IBM P150+
1-3, 2-4
1-3, 2-4
3-5, 4-6
OFF
ON
Cyrix/IBM P166+
1-3, 2-4
3-5, 4-6
3-5, 4-6
OFF
ON
AMD K5
PR90
1-3, 2-4
1-3, 2-4
1-3, 2-4
OFF
OFF
PR100
1-3, 2-4
3-5, 4-6
1-3, 2-4
OFF
OFF
PR120
1-3, 2-4
1-3, 2-4
1-3, 2-4
OFF
ON
PR133
1-3, 2-4
3-5, 4-6
1-3, 2-4
OFF
ON
PR166
1-3, 2-4
3-5, 4-6
1-3, 2-4
ON
ON
AMD K6
PR166
1-3, 2-4
3-5, 4-6
3-5, 4-6
ON
ON
PR200
1-3, 2-4
3-5, 4-6
3-5, 4-6
ON
OFF
PR233
1-3, 2-4
3-5, 4-6
3-5, 4-6
OFF
OFF
S1 Settings
Switch
Setting
Function
Password Security
Switch 1
ON
OFF
Password bypass
Password check
Onboard Sound
Switch 2
ON
OFF
Disabled
Enabled
Onboard LAN
Switch 3
ON
OFF
Disabled
Enabled
Clock Select
Switch 6
ON
OFF
Cypress CY2273
Clk 9148
Jumper Settings
Jumper
Setting
Function
JP1
BIOS Type
1-2
2-3
For models with Acer BIOS
For models with OEM BIOS
JP2
LED Function
1-2
2-3
LED for IDE and FDD
LED for IDE only
JP3 Suspend/Reset switch function
1-2
2-3
Suspend
Reset
JP5
L2 Cache mode
1-2
2-3
Intel or Cyrix M1/M2 "1+4" mode
Cyrix M1/M2 linear burst mode
JP10
Power supply type
1-2
2-3
With standby power supply³ 1A
With standby power supply < 1A
CN23
CPU Voltage option
1-3,2-4
3-5,4-6
Single voltage CPU (P54C, K5, 6x86)
Dual voltages (P55C, K6, 6x86L)
CN36
Core Voltage
1-2
3-4
5-6
7-8
9-1
2.8V
2.9V
3.2V
3.31V
3.52V
Connector Functions
| Connector | Function |
| --- | --- |
| CN2 | PS/2 keyboard connector |
| CN3 | PS/2 mouse connector |
| CN4 | COM Port |
| CN6 | USB connector |
| CN7 | Printer port |
| CN8 | Monitor port |
| CN10 | Standby power connector |
| CN11 | Power connector |
| CN12 | Diskette drive connector |
| CN13 | IDE connector 2 |
| CN14 | IDE connector 1 |
| CN22 | CPU fan connector |
| CN26 | Modem ring-in connector |
| CN27 | ATI multimedia connector (AMC) |
| CN30 | Power LED connector |
| CN31 | Message-in LED/HDD LED connector |
| CN34 | External speakers connector |
| CN35 | Reset switch connector |
| JPA1 | Power/Suspend/HDD LED/Power button connector (for OEM) |
---
---