Acer V50LA Motherboard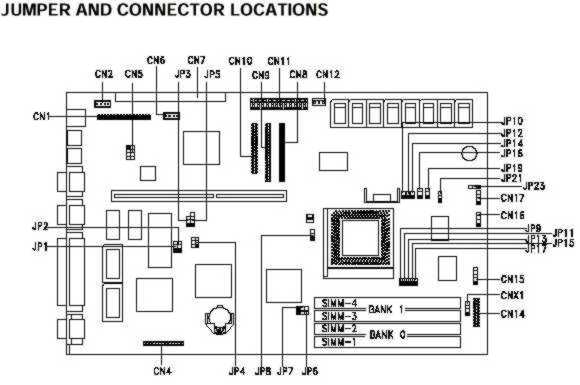 Note - The blackened pin of a jumper represents pin 1.
CPU: Pentium 75/90/100/120/133/150/166 MHz
Memory: Four SIMM sockets that support up to 128MB of system memory using 32-MB 70ns fast-page or EDO-type SIMMs
Video Memory: 1-MB video memory onboard upgradable to 2-MB using 70ns video memory chips
Cache:

16-KB internal cache
256-KB asynchronous (15ns 32K*8 SRAMs) or synchronous manufacturing optional pipeline-burst (15ns 32K*32 SRAMs) second level cache

BIOS:

128-KB Flash ROM with system BIOS
SST Flash RON 29EE010
WINBOND Flash ROM 29EE011
Intel Boot Block mode Flash ROM 28F001

Video Support: Supports a maximum resolution of 1280x1024 (ATI 264CT PCI VGA accelerator onboard)
Audio Support: Supports line-in, line-out, mic-in, and MIDI/game port (Crystal 4232 and Yamaha 289 OPL3L onboard)
Hard Disk Interface: Two embedded PCI Enhanced IDE interfaces support up to four IDE devices
Diskette Drive Interface: One diskette drive interface that supports 2.88/1.44/1.2-MB diskette drives. Supports three-mode diskette types.
Onboard I/O: One PS/2 Keyboard and one mouse port. Two NS16C550-compatible serial ports and one parallel port that supports EPP/ECP modes
Real-time Clock: System clock/calendar with 128 bytes CMOS RAM
Expansion Slots:

Desktop Models:

One ISA slot
Two PCI/ISA slots

Minitower Models:

Four ISA slots, One ISA/PCI slot
Three PCI slots

Power Supply: 145-watt 115v/230v switching power supply
Jumper Settings
Jumper
Setting
Function
JP1
BIOS Type
1-2
2-3*
For models with Acer BIOS
For models with OEM BIOS
JP2
Password Check
1-2
2-3*
Check password
Bypass password
JP3
Boot Block Feature **
1-2
2-3*
Enable Flash ROM boot block feature
Disable Flash ROM boot block Feature
JP5
BIOS ROM Type
1-2
2-3
3-4*
EPROM
Flash ROM (Intel 28F010, 28F001)
Flash ROM (SST, Winbond 29EE010)
JP4
CPU Core/Host Bus Frequency
1-4
2-5*
3-6
75/50 MHz
90/60, 120/60, 150/60 MHz
100/66, 133/66, 167/66 MHz
JP6,JP7
Second-level Cache
1-2*,1-2*

256 KB
All other settings reserved
JP8
CPU Type
1-2*
2-3
Intel P54C or AMD K5
Cyrix M1
JP16,JP19
CPU / Clock Ratio

1-2,1-2*
1-2, 2-3
2-3, 1-2
2-3, 2-3

| | |
| --- | --- |
| Intel P54C | M1 and K5 |
| 3/2 | 3/1 |
| 2/1 | 2/1 |
| 3/1 | |
| 5/2 | |

JP21
CPU Voltage
1-2*
2-3
3.38V for VR and standard CPU type
3.52V for VRE CPU type
JP23
LED Support
1-2
2-3*
For IDE and diskette drives
For IDE drive only
** The boot block feature works only with Intel 28F001 Flash ROM and requires JP5 to be set to pins 2-3.

*Default setting.
Connector Functions
| Connector | Function |
| --- | --- |
| CN1 | Audio/MIDI connector |
| CN2 | Fax/voice modem connector |
| CN4 | Video feature connector |
| CN5 | WaveTable connector |
| CN6 | CD-audio line-in connector |
| CN7 | Feature connector for nultimedia or Ethernet solution |
| CN8 | IDE channel 1 |
| CN9 | IDE channel 2 |
| CN10 | Diskette drive connector |
| CN11 | Power connector |
| CN12 | Standby power connector |
| CN14 | Multifunction connector |
| CN15 | IrDA connector |
| CN16 | Hard disk drive LED connector |
| CN17 | Hard disk drive LED connector (generic) |
| CNX1 | SMM switch/Reset switch |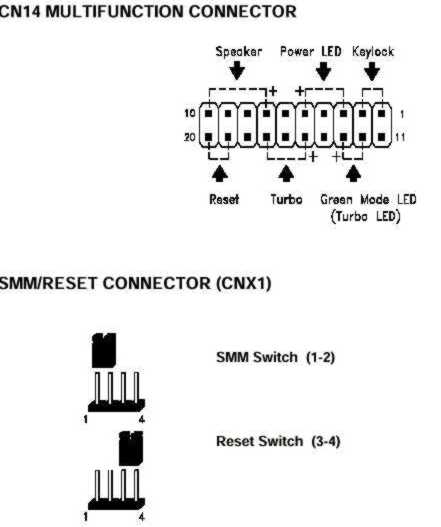 ---
---