Acer V55LA-2 Motherboard
Jumper and Connector Layout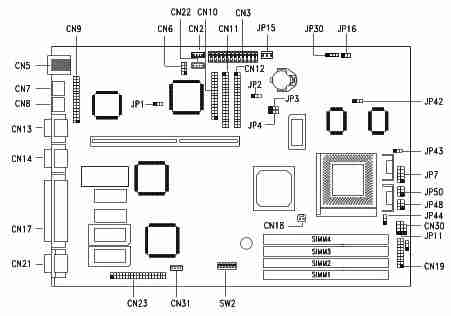 CPU Jumper Settings
SW2 Settings
CPU Freq
Host Bus Freq.
1
2
3
4
JP7
JP43
JP44
Intel P54C P166
66
OFF
ON
ON
ON
Closed
2-3
2-3
Intel P54C P200
66
OFF
ON
OFF
ON
Closed
2-3
2-3
Intel P55C P150
60
ON
OFF
ON
ON
Open
2-3
2-3
Intel P55C P166
66
OFF
ON
ON
ON
Open
2-3
2-3
Intel P55C P200
66
OFF
ON
OFF
ON
Open
2-3
2-3
Intel P55C P233
66
OFF
ON
OFF
OFF
Open
2-3
2-3
AMD K6 PR166
66
OFF
ON
ON
ON
Open
2-3
1-2
AMD K6 PR200
66
OFF
ON
OFF
ON
Open
2-3
1-2
AMD K6 PR233
66
OFF
ON
OFF
OFF
Open
2-3
1-2
SW2 Settings
Switch
Setting
Function
Sound Feature
Switch 5
ON
OFF
Onboard sound chip disabled
Onboard sound chip enabled
Password Security
Switch 6
ON
OFF
Password bypass
Password check
Jumper Settings
Jumper
Setting
Function
JP1 BIOS Type
1-2
2-3
For models with Acer BIOS
For models with OEM BIOS
JP2 LED Function
1-2
2-3
LED for IDE and FDD
LED for IDE only
JP3, JP4 Second-level Cache
1-2, 1-2
1-2, 2-3
2-3, 2-3
256 KB
512 KB
1 MB
JP7 Regulator
Closed
Open
For single-voltage CPUs (P54C, K5, M1)
For dual-voltage CPUs (P55C, K6, M2)
JP11 SMM/Reset Switch
1-2
2-3
CN19 pins 19-20 support SMM switch
Reserved
JP16 Software Shutdown
1-2
2-3
UPS enabled
UPS disabled
CPU Voltage
JP43 (for I/O)


JP44 (for core)

1-2
2-3

1-2
2-3


3.5V
3.3V

3.2V
2.8V
Connector Functions
Connector
Function
CN1
Feature connector for multimedia or Ethernet solution
CN2
CD-audio line-in connector
CN3
Power connector
CN5
USB Connector
CN6
WaveTable connector
CN7
PS/2 keyboard connector
CN8
PS/2 mouse connector
CN9
Audio I/O board connector
CN10
Diskette drive connector
CN11
IDE connector 2
CN12
IDE connector 1
CN13
Serial port 1
CN14
Serial port 2
CN17
Parallel port
CN18
CPU fan connector
CN19
Multifunction connector
CN21
Video port
CN22
Fax/modem connector
CN23
ATI multimedia connector (AMC)
CN31
Internal line-in connector
JP10*
Hard disk and diskette drive LED connector
JP14*
Power-on switch connector (pins 1-2)
JP15
Standby power connector
JP30
External battery connector
JP48**
Hard disk and message LED (pins 1-3-5)
Power LED (pins 2-4-6)
JP30
Power-on switch connector**
* For generic version system board only.
** For Aspire version system board only.
Memory Upgrade
The system memory is upgradable to a maximum of 128MB via 72 pin SIMM sockets on board. These SIMM sockets accept 32MB, 60ns-70ns fast-page or EDO-type DRAM modules in capacities of 4-, 8-, 16-, and 32MB. Important: Do not mix EDO and fast-page mode DRAM in one configuration. Install only the same type of SIMMS in a bank.
BIOS
How do I enter the BIOS Setup Utility?
You can access the BIOS Setup Utility by pressing CTRL+ALT+ESC as the system is booting. At the bottom of the second start up screen you should see "To enter setup, press CTRL_ALT_ESC".
Note: If the system displays the Acer Splash Screen, once you hear the beep, you should begin pressing CTRL+ALT+ESC.You may need to press CTRL+ALT+ESC continuously until you access the BIOS setup screen.
Why do the USB ports on my Acer Aspire system not work?
Your Aspire system was produced during the very early stages of USB. We were ahead of the technology and installed USB ports in anticipation of USB standards being released. However those standards, and the support for USB was not available at the time your system was released. Therefore, the USB ports do not function and will not support USB devices.
---
---