Acer V6G Motherboard
Jumper and Connector Layout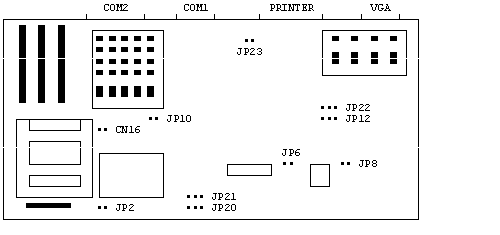 Jumper Settings
| Jumper | Setting | Function |
| --- | --- | --- |
| JP2 | 1-2 | Check Password |
| | 2-3* | Bypass Password |
| JP3 | 1-2* | Enable Reset Button |
| | 2-3 | Disable Reset Button |
| JP6 | Open | Discharge the Real-Time Clock |
| | Close* | Normal Operation |
| JP8 | ON | I/O Address From 140H (for Onboard SCSI) |
| | OFF | I/O Address From 340H (for Onboard SCSI) |
| JP10 | Open* | Enable Onboard 4MB Memory |
| | Close | Disable Onboard 4MB Memory |
| JP12 | 1-2* | Enable Onboard VGA |
| | 2-3 | Disable Onboard VGA |
| JP22 | 1-2 | Select IRQ 10 (For Onboard SCSI) |
| | 2-3 | Select IRQ 11 (For Onboard SCSI) |
| JP23 | ON* | Enable Onboard FDD,HDD,COM1,COM2 and PRN |
| | OFF | Disable Onboard FDD,HDD,COM1,COM2 and PRN |
| JP41 | CLOSE | Enable CMOS Battery |
| | OPEN | Disable CMOS Battery |
| JP20 | 1-2 | 20/25/33 MHz Speed |
| | 2-3 | 40/50 MHz Speed |
| CN16 | 1-4 | 20/40 MHz Speed |
| | 2-5 | 25/50 MHz Speed |
| | 3-6 | 33 MHz Speed |
* Default
Memory
Use 1MB, 4MB, or 16MB 72-Pin SIMMs. 80NS speed, fast page mode. Maximum 64MB RAM.
P10 = OFF: Disables onboard 4MB Memory.
Video Memory
The onboard VGA RAM can be upgraded from 512K to 1 MB. Order P/N 91.00023.901 "512K to 1MB Upgrade" from Acer Access. This kit contains four 256K*4,80NS DRAM chips.
Cache
The system supports second-level cache upgrade sizes of 64K, 128K, and 256K. The proprietary cache board contains connectors labled CN1 and CN2 as does the motherboard. Insert the corresponding connectors into the motherboard.
---
---