Advent 5471 Laptop
Specification
CPU
Intel Celeron 700MHz
Memory
128MB PC100/PC133 SDRAM SODIMM (2 memory slots. Max 256MB)
Hard Drive
10GB (removable)
CD Drive
6 x Torisan DRD U624 DVD ROM
Floppy Drive
Floppy disk drive fitted
Screen
14.1" TFT (Native Res.1024x768)
Video Card
ATI Rage LT Pro 8MB
Sound Card
ESS Maestro2E
Modem
either a Conexant 56k Fax modem V.90 or a Lucent 56K v.90 (PCMCIA)
PC Card
Will take either 2x Type I/II or 1x Type III
Ports
1x Kensington Lock
2x PC Card slots
1x IR
1x Line-in
1x Mic-in
1x Audio-out
1x Modem
1x PS/2
2x USB
1x Expansion Port
1x Serial Port
1x VGA
1x S-Video
1x Parallel
Battery
3100S (11.1v 4800mAh)
Made By
Gericom 3xC Series
Drivers
Your laptop should have been supplied with a "Utility and Driver CD" which contains a backup copy of all the drivers.
The 5471 is basically a rebadged Gericom 3xC Series (you should see this printed on the underside of the laptop) so you can also download the drivers and user manual from the Gericom website.
Upgrading the Memory
The memory slots on this laptop are accessed by removing the keyboard. To do this -
Turn the system power off
Press the two keyboard latches to elevate the keyboard from it normal position
Carefully lift the keyboard assembly out so that the mainboard is exposed. You should see the memory slots in the middle.
The maximum according to the manual is 256MB though I have heard from an owner who says it will take 256MB modules which would make the maximum 512MB.
Adding RAM is the most cost effective way to boost your computer's performance.
Bottom of Laptop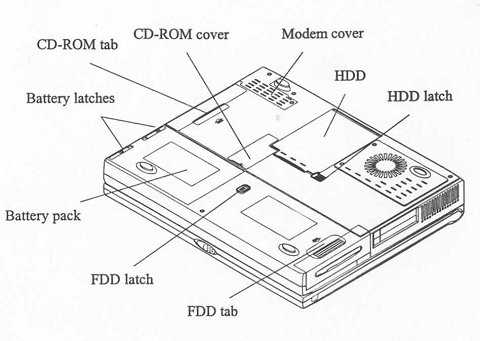 Function Keys
Fn+F3 - Expand LCD display
Fn+F6 - Toggle CRT/LCD/LCD+CRT/TV/CRT+TV
Fn+F9 - Decrease LCD brightness
Fn+F10 - Increase LCD brightness
Fn+F11 - Decrease audio volume
Fn+F12 - Increase audio volume
Fn+Z - Toggle audio mute on/off
Fn+Esc - Suspend/resume
In the Box
Disks Supplied
Recovery boot floppy disk
Recovery CD ROM
Supervoice CD
DVD ROM and suspend driver floppy disk
Items Supplied
Advent 5471 notebook
Mains power adapter
Mains power cable
UK modem cable
S-Video cable
Documentation Supplied
Advent notebook user's manual
User guide for fax modem
Freeserve leaflet
Recovery
Warning: this process will erase all files from your computer. It is important that you save any personal files to disk before you begin.
A bootable recovery CD is supplied with these machines. To recover the system:-
Insert CD (and floppy disk if supplied) into the drive.
Reboot the PC.
A warning message prompting you to backup data before proceeding.
Press Y to continue.
A final warning that all data will be erased is displayed.
Press Y to continue.
Finally a message "Remove CD-ROM when prompted" is displayed.
Press Y to continue.
The image file will load. Once complete you will be prompted to remove the CD and press CTRL + ALT + DEL to restart.
Useful Links
Repairs and Spares
All official service and support is handled by Knowhow (basically "The Tech Guys" under a new name), their website is http://www.knowhow.com/. If you laptop is covered under warranty then you need to contact them for repairs.
There are also plenty of other companies that do repairs or supply spare parts, here is a selection -
TechnoMart - http://www.techno-mart.co.uk
PartMaster (spare parts) - http://www.partmaster.co.uk
FAQ
Blank screen or EMM386 error after recovery
Once the recovery has completed the screen goes blank or an EMM386 error message is dispalayed. This happens because the laptop is having problems displaying the message to remove the CD and restart. Simply remove the CD from the drive and restart the laptop, first time setup will begin as normal.
---
---