Advent T9 PC
CPU
Intel Pentium 4 3.0 GHz HT
BIOS
Phoenix-Award BIOS. Press the Delete key to enter
Motherboard
MS-7048
Memory
512 MB DDR RAM - (2x 256 - PC3200)
Hard Drive
120 GB Seagate ST3120020A
CD Drive
Artec DHM-G48 16X DVD-ROM
Pioneer DVR-107DB DVDRW
Video Card
ATi Radeon 9800 XXL VIVO 128MB
TV Card
Medion 7134 TV-tuner
Sound Card
C-Media 9739A AC'97
Modem
Creatix V.9x DSP Data Fax Modem
Network Card
VIA Rhine III VT6105
Prism 802.11g wireless
Ports (Front)
1x 7-in-1 Card Reader
1x Headphone
1x Microphone
1x Line-in
1x Phono-in (left)
1x Phono-in (right)
1x Composite video-in
1x S-Video in
2x IEEE 1394 (FireWire) *
2x USB 2.0
Ports (Rear)
1x Parallel
1x Serial
1x SPDIF Output
1x SPDIF Input
1x Coaxial Input
1x Coaxial Output
1x LAN
4x USB 2.0
1x IEEE 1394 (FireWire)
6x Audio Input/Output
1x DVI
1x VGA
1x Modem
1x TV Aerial
1x FM Radio Aerial
1x S-Video TV-Out
1x Composite TV-Out
1x SCART TV-Out
Remote
PowerCinema remote control
Keyboard
Advent wireless keyboard
Mouse
Advent wireless mouse
* You cannot use both front firewire ports at the same time
Case Disassembly
Remove 2 screws from right rear of case, then slide the side of the case backwards. The panel is a tight fit and may require firm pressure to remove. The front bezel has to be removed before the drives can be slid out. It is retained by 4 clips.
Drivers
Your PC should have a backup copy of all the drivers, you can find it by browsing to the c:\applications\drivers folder.
You can also download the drivers from Medion's website. Please note that the Medion PC uses a slightly different BIOS so installing the BIOS update on an Advent PC may damage the computer.
Motherboard Information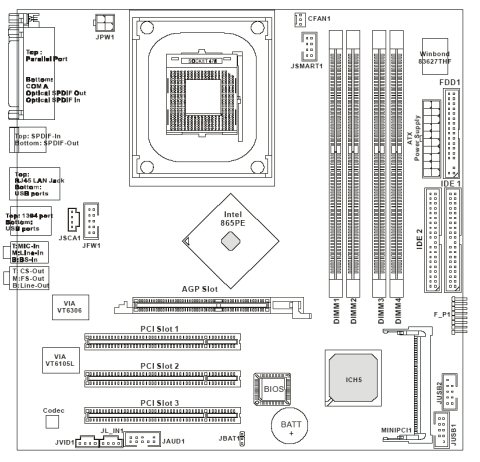 Form Factor: M-ATX Form Factor: 24.38 cm (L) x 24.38 cm (W)
CPU Support: Supports Socket 478 for Intel Pentium 4 (Socket 478) Northwood processor. Supports up to 3.2 GHz P4 processor
System Memory: Supports eight memory banks using four 184-pin unbuffered DIMM. Dual-channel function. Max memory 4GB without ECC. Supports DDR266/DDR333/DDR400 memory module.
Core Logic (Chipset): Intel Springdale-865PE chipset

Supports AGP 8x/4x at 0.8V (AGP 3.0) or 4x at 1.5V (not supports 3.3V)
Supports 133/166/200MHz memory FSB
Supports 400/533/800MHz Intel NetBurst micro-architecture bus.

IO Controller: Intel ICH5 chipset (421 mBGA)

AC'97 2.3 interface
8 USB 2.0/1.1 ports
2 channel Ultra ATA/100 Bus Master IDE controller
SMBus 2.0 support

LAN: VIA VT6105L LAN Controller
Audio Chipset: S/W C-Media 9780 7.1 channel with SPDIF in/out.
Jumpers
JBAT1 - CMOS Reset. 1-2 Keep Data, 2-3 Clear Data
In the Box
Disks Supplied
Advent Recovery CD version 3
Microsoft Works 7
Items Supplied
Advent Wireless keyboard
Advent Wireless mouse
Mouse mat
UK modem cable
FM antenna
Remote control (including 2 AAA batteries)
Documentation Supplied
Advent setup topsheet
Advent user manual
Microsoft Windows XP "Start here" guide
"Instructions for PC Remote Controller"
FireWire ports addendum
"Advent system recovery and DirectX" addendum
Cyberlink DVD solution card - containing the product key for PowerDVD
Recovery Disc
To recover your Advent PC you will need your Advent System Recovery CD.
Place the CD into the DVD drive and restart your computer.
Press R on the keyboard when prompted.
The recovery will load and display a menu of options:

Non-destructive recovery: this option will restore Windows, supplied applications, and drivers. This option will not destroy your documents or programs. These will be backed up along with the registry. These are restored at the end of the recovery process.
System Recovery - No format: this will reinstall Windows, supplied applications and drivers. It will move your files to a folder called "My old disk structure". Any applications (except those supplied) will need to be reinstalled.
System Recovery - Quick format: this option will erase your hard drive including your personal files. Windows, supplied applications and drivers will be reinstalled.

Select the Non-destructive recovery option and press Next.
You will be informed about System Restore in Windows, click Yes.
The recovery will begin. Once this is complete you should eject the CD and click Restart.
Due to the nature of the recovery process you should not use FDISK or any other partition management software to delete the partition on your Advent computer. Doing so will prevent the recovery from functioning correctly. If the recovery asks for a second CD you will need to obtain an Update CD from Advent.
Additional information.
Press the ALT and D keys at the recovery menu to access a command prompt. This will allow access to C: drive. The command prompt will default to E:\i386\system32 where you can run a variety of tools including CHKDSK.EXE.
Pressing CTRL + BACKSPACE at the 'Press R to display system recovery options' will display the manufacturers hidden menu. This menu contains a number of tools to delete or recreate the partitions on the hard disk drive.
Reinstalling applications
From version 2.x of the recovery system onwards you can install applications from the c:\applications folder. Drivers can be installed from the c:\applications\drivers folder and utilities from the c:\applications\tools folder. You will still need to install Microsoft Works from the supplied CD.
---
---