Advent T9200 PC
CPU
Intel Pentium 4 3.4 GHz HT
BIOS
Phoenix-Award BIOS. Press the Delete key to enter
Motherboard
TriGem TG 865PE
Memory
512MB DDR PC2700 RAM (2 memory slots. Max 2GB)
Hard Drive
200 GB Maxtor DiamondMax 6Y200P0
CD Drive
Lite-On LDW-811S 8x DVD±RW
Star Logic DVD-ROM DVD-16X6S
Floppy Drive
Floppy disk drive fitted
Video Card
nVIDIA GeFORCE FX 5500 (256MB)
TV Card
AverMedia TV-tuner
Sound Card
Realtek AC'97 audio
Speakers
Advent stereo powered speakers
Modem
Either a "Conexant PCI HSPi V.92 (CX11252-11)" or a "Lectron I56LVPC7 PCI"
Network Card
Realtek 8139 / 810X (Onboard)
ASUS WL-138g Wireless LAN adapter
Ports (Front)
1x IEEE1394 (FireWire)
2x USB 2.0
1x Line-out
1x Microphone
1x 7-in-1 Card Reader
Ports (Rear)
1x PS/2 Mouse
1x PS/2 Keyboard
1x IEEE 1394 (FireWire)
4x USB 2.0
1x Parallel
1x Serial
1x LAN
1x IEEE1394 (FireWire)
1x Line-in
1x Line-out
1x Microphone
1x VGA
1x S-Video (TV-out)
1x DVI
1x Telephone
1x Modem
1x Wireless LAN Aerial
1x TV Card *
Case
Jupiter
Keyboard
Advent multimedia keyboard
Mouse
Advent optical mouse
* TV Card connectors (L-R) - Remote Sensor Socket, Audio In, Audio Out, S-Video In, Composite Video In, TV Aerial Socket, FM Aerial Socket.
Case Disassembly
Release the side of the case by removing the 2 screws on the right hand side at the back.
Drivers
Your PC should have a backup copy of all the drivers, you can find it by browsing to the c:\applications\drivers folder.
Motherboard Information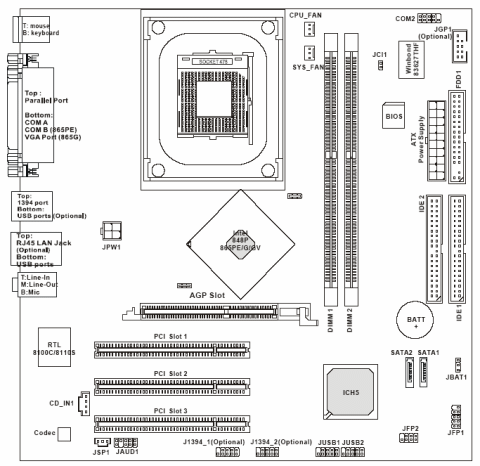 CPU:

Supports Socket 478 for Intel Pentium 4 (Socket 478) processor
Supports 533MHz or 800MHz FSB
Supports 3.4GHz or higher speed P4 processor (Require multi-directional CPU heatsink)

Chipsets:

Intel 865G/865GV/865PE/848P chipset

Supports AGP 8x/4x (for 865G/865PE)
Integrated graphic controller (865G only)
Supports DDR266/333/400 SDRAM.
Supports 400/533/800MHz Intel NetBurst micro-architecture bus.

Intel ICH5 chipset (421 mBGA)

AC'97 2.3 interface
8 USB 2.0/1.1 ports
2 channel Ultra ATA/100 Bus Master IDE controller
SMBus 2.0 support
2 serial ATA Host Controllers
Integrated LAN controller

Main Memory:

Supports two 64-bit wide DDR data channels (848P supports a 64-bit wide DDR data channel)
Supports dual-channel function
Supports 128Mb, 256Mb, 512Mb, or 1Gb DDR technologies
Supports DDR 333/400 memory modules

Slots:

One AGP supports 8x/4x
Three PCI 2.2 32-bit Master PCI Bus slots.

On-Board ATA:

An IDE controller on the ICH5 chipset provides IDE HDD/CD-ROM with PIO, Bus Master and Ultra DMA66/100 operation modes.
Can connect up to four IDE devices.
Supports Serial ATA Host Controllers*2.

On-Board Peripherals:

1 floppy port supports 1 FDD with 360K, 720K, 1.2M, 1.44M and 2.88 Mbytes.
1 serial port, 1 VGA port (865G)
1 parallel port supports SPP/EPP/ECP mode
8 USB 2.0/1.1 ports (Rear * 4 / Front * 4)
1 Line-In/Line-Out/Mic
1 RJ45 connector
2 1394 ports (Rear*1 / Front*1)
1 Game port pin header
1 serial port pin header

Audio:

AC97 link controller integrated in ICH5
6 channels software audio codec Realtek ALC655
Compliant with AC97 v2.2 spec.
Meet PC2001 audio performance requirement

On-Board LAN:

Realtek 8110S / Realtek 8100 C
Integrated Fast Ethernet MAC and PHY in one chip
Supports 10/100Mb/s (for 8100C) and 10/100/1000Mb/s (for 8110S)autonegotiation operation
Compliant with PCI v2.2, and LAN on Motherboard (LOM) standard

On-Board 1394: VIA VT6307
Dimensions: M-ATX Form Factor: 24.5 cm (L) x 24.5 cm (W)
Jumpers
If the CMOS configuration information needs to be cleared, you can short the jumper JBAT1 whilst the computer is switched off. Move the jumper to the clear data position shown below, power on, allow to start and then shut down again. Return the jumper to the keep data position to complete the procedure.
JBAT1, Clear CMOS. 1-2 - Keep Data, 2-3 - Clear Data.
In the Box
Disks Supplied
Advent Recovery CD version 3
Microsoft Works 7 CD
Sonic MyDVD installation CD
Items Supplied
Advent USB keyboard and optical mouse
Advent stereo speakers, with power adaptor
UK mains power cable
UK modem cable
AverMedia remote control with 2 x 'AA' batteries
AverMedia remote device control cable
FM antenna
TV Line out to audio line in patch cable
Wireless LAN antenna
Documentation Supplied
Advent users manual
Microsoft Windows XP "Start here"
Setting up your Advent computer
Setting up your wireless network
Using 5.1 surround sound
AverTV setup guide
USB keyboard and mouse guide
Preinstalled applications after recovery
Recovery Disc
To recover your Advent PC you will need your Advent System Recovery CD.
Place the CD into the DVD drive and restart your computer.
Press R on the keyboard when prompted.
The recovery will load and display a menu of options:

Non-destructive recovery: this option will restore Windows, supplied applications, and drivers. This option will not destroy your documents or programs. These will be backed up along with the registry. These are restored at the end of the recovery process.
System Recovery - No format: this will reinstall Windows, supplied applications and drivers. It will move your files to a folder called "My old disk structure". Any applications (except those supplied) will need to be reinstalled.
System Recovery - Quick format: this option will erase your hard drive including your personal files. Windows, supplied applications and drivers will be reinstalled.

Select the Non-destructive recovery option and press Next.
You will be informed about System Restore in Windows, click Yes.
The recovery will begin. Once this is complete you should eject the CD and click Restart.
Due to the nature of the recovery process you should not use FDISK or any other partition management software to delete the partition on your Advent computer. Doing so will prevent the recovery from functioning correctly. If the recovery asks for a second CD you will need to obtain an Update CD from Advent.
Additional information.
Press the ALT and D keys at the recovery menu to access a command prompt. This will allow access to C: drive. The command prompt will default to E:\i386\system32 where you can run a variety of tools including CHKDSK.EXE.
Pressing CTRL + BACKSPACE at the 'Press R to display system recovery options' will display the manufacturers hidden menu. This menu contains a number of tools to delete or recreate the partitions on the hard disk drive.
Reinstalling applications
From version 2.x of the recovery system onwards you can install applications from the c:\applications folder. Drivers can be installed from the c:\applications\drivers folder and utilities from the c:\applications\tools folder. You will still need to install Microsoft Works from the supplied CD.
---
---