Canon BJC-5500 Printer
General
Alternative Drivers
Drivers you can use if the BJC-5500 driver is not available.
DOS : BJ-200/200e/200ex (BJ Mode/Black)
DOS : Epson LQ2550 (LQ Mode Colour/Black)
Cartridges
BC-20 - Black Ink
BCI-21bk - Black Ink Tank (BC-21)
BCI-21c - Tri Colour Ink (BC-21)
BC-21e - Colour Print Head
BC-22e - Photo Colour
BC-29f - Fluorescent Ink
Cleaning Print Head
Press and Hold both the Black RESET and Colour RESET buttons until the printer beeps once.
Self Test
Press and hold the MENU button until font disappears from menu. Press and Hold PWDADJ or REVADJ buttons until the number 1 is displayed. Press the MENU button to start test.
Known Issues
Black Page When Printing Faxes
If when you print a fax, it comes out as a solid black page, go into the printer's properties and set the printer to Mono.
Printing Squashed or Running off Right Hard Side of Page
If your printing is either squashed down the left hand side of the page, or that it runs off the right hand edge of the page the cause is down to the printer not detecting the right colour cartridge in the printer.
What you need to do is go into the Properties for the printer, then into the Graphics tab, and in the Colour Model section, change the setting from Colour to Photo Colour (if it is already set to Photo Colour, change it to Colour).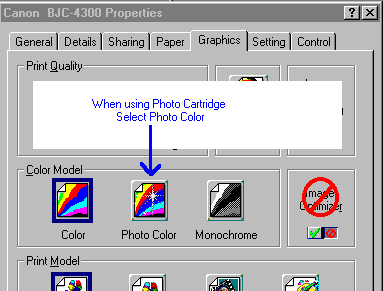 It might also be worth turning on Cartridge Detection as well.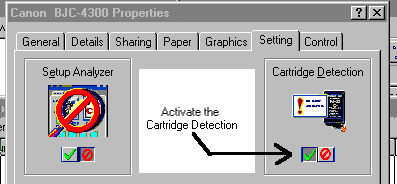 Error Codes
| Error | Cause | Solution |
| --- | --- | --- |
| C1 | Waste Ink Warning | Press Online to continue printing, Note to stop this error you are require to take the printer in for service. |
| C5 | Low Battery Warning | Try recharging the battery |
| E1 | Paper Pickup Error or out of paper | Add Paper or clear paper jam and press the ONLINE button. |
| E2 | Paper Delivery Jam | Clear paper jam and press the ONLINE button. |
| E3 | Cannot switch between cut sheets and fanfold paper. | |
| E6 | Not detecting the print head | Install the print head or replace it |
| F1 | Carriage motor / home position related errors | Try unplugging the printer for 60 seconds, if that fails then the printer Requires a Service |
| F3 | Encoder related errors | Try unplugging the printer for 60 seconds, if that fails then the printer Requires a Service |
| F11 | Internal thermistor error | Try unplugging the printer for 60 seconds, if that fails then the printer Requires a Service |
| F12 | PrintHead Temperature Error | Try installing a NEW print head , if the problem continues the printer requires service |
| F13 | Print Head Installation Error | Try installing a NEW print head or reinstalling the print head, if the problem continues the printer requires service |
| F14 | Waste Ink is Full | Requires Service |
| F15 | Error detected when capping cartridge | Try unplugging the printer for 60 seconds, if that fails then the printer Requires a Service |
| F1a | Error detected when checking the RAM | Try unplugging the printer for 60 seconds, if that fails then the printer Requires a Service |
| F1b | Error detected when checking the ROM | Try unplugging the printer for 60 seconds, if that fails then the printer Requires a Service |
| F1c | Error detected when checking the EEPROM | Try unplugging the printer for 60 seconds, if that fails then the printer Requires a Service |
| F1d | When the head subheater fuse on printer logic board has blown, or when electrical conductivity of the subheater is abnormal | Requires Service |
| F1f | The optional interface was selected, but no board was installed, or an error occurred in communication with the board | May Require Service |
| Online blinking | Check and see if the print head is sitting in the middle | Typically means replacement of the print head, try reseating the print head |
---
---