Packard Bell 386 25 (Rev. F) M/Board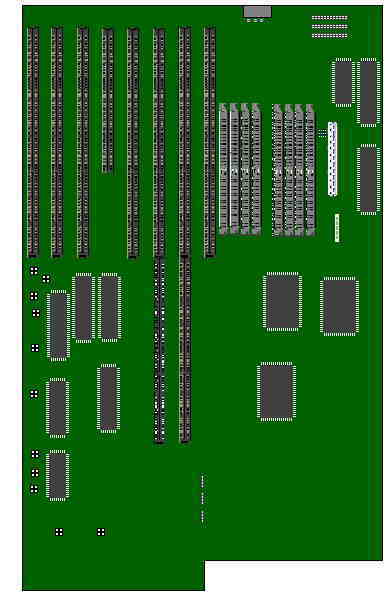 Specification
There are two motherboard versions. Rev. D has all simm sockets grouped together, Rev. F has them arranged in two groups.
Battery : DS1287 soldered on Motherboard
BIOS : 2 X 32K Phoenix 1.10.19C2 BIOS. To access setup, Ctrl+Alt+Ins
Bus Architecture : ISA based system bus
Cache : 64K, 35 ns
CPU : 80C386DX-25 MHz. Keyboard Switchable Ctrl-Alt-1 = 8 MHz, Ctrl-Alt-2 = 25 MHz. Use number keys on numeric pad.
Interfaces :

1 DB-25 Parallel Port
2 DB-9 Serial ports
1 Keyboard Port
1 Ext. VGA Conn 15 pin

RAM : 4MB standard Maximum on Motherboard 8 MB
Speaker : Piezoelectric, soldered on motherboard
Video : Oak, Trident, PBVGA Multi, or SVGA
Jumpers
Function
Jumper
Description
SIMM Speed
E47-E48
E48-E49
100ns
85ns
SIMM Type
E42-E43, E44-E45
E42-E43, E45-E46
E41-E42, E44-E45
Static Column
Fast Paged
Standard RAS/CAS
Total RAM
E35-E36, E30-E31, E33-E34, E39-E40
E32-E33, E35-E36, E39-E40, E30-E31
E33-E34, E36-E37, E38-E39, E29-E30
E32-E33, E36-E37, E38-E39, E29-E30
1MB
2MB
4MB
8MB
ROM Size
E23-E24
E24-E25
64K
128K
Monitor Type
E18-E19
E17-E18
Colour
Monochrome
Printer Acknowledge
E2-E3
E3-E4
Leading Edge
Trailing Edge
Parallel Port
E5-E6
E6-E7
E8-E9
E9-E10
LPT1 Enabled
LPT1 Disabled
LPT2 Enabled
LPT2 Disabled
Serial Port
E11-E12
E12-E13
E14-E15
E15-E16
COM1 Enabled
COM1 Disabled
COM2 Enabled
COM2 Disabled
Upgrades
Battery : DS1287 soldered on motherboard.
Maths Co-Processor : This system supports the 80387SX-25 math co-processor. It is installed at location U41. No jumper settings are required.
RAM : 4MB standard Maximum on Motherboard 8 MB. This board will accept RAS/CAS, Fast-Paged, or Static Column memory upto 8MB. SIMM Speed either 80ns or 100ns (100ns recommended). See the jumpers section for necessary jumper changes when upgrading memory.
---
---