Packard Bell 386 25/33 M/Board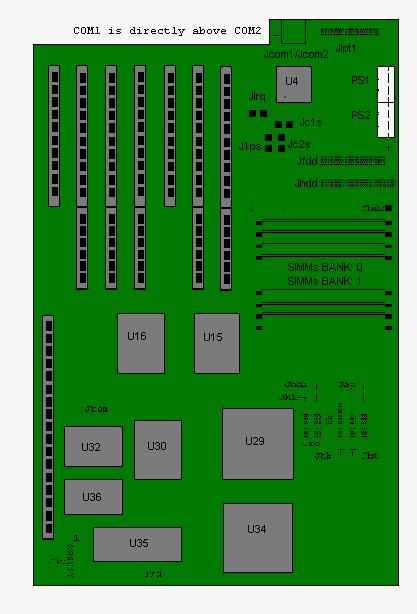 Specification
Battery : Tadiran 3.6V Lithium connected at location Jbt.
BIOS : 2 X 32K Phoenix BIOS 1.01.1817. To access setup, Press Ctrl-Alt-S during post.
Bus Architecture : ISA based system bus
Cache : N/A
CPU : 80C386DX-25 or MHz 80C386DX-33 MHz. Turbo Switch Switchable, Off = 8 MHz, Green = 25/33 MHz.
Interfaces :

1 DB-25 Parallel Port
2 DB-9 Serial ports
1 Ext. VGA Conn 15 pin on expansion slot 1

RAM : 2MB standard Maximum on Motherboard 32 MB
Speaker : On-board diaphragm
Video : 16-bit video adapter on expansion slot Capable of 1024 X 768
Video RAM : 512K
Jumpers
Function
Jumper
Description
Jc1s (COM 1)
1-2
OPEN
Enabled
Disabled
Jc2s (COM 2)
1-2
OPEN
Enabled
Disabled
Jlps (LPT PORT)
1-2
2-3
Select LPT1
Select LPT2
Jlrq (LPT INT)
1-2
2-3
Select LPT1
Select LPT2
Jfdc (FDC)
1-2
OPENED
Enabled
Disabled
Jhdc (HDC)
1-2
OPENED
Enabled
Disabled
Jvd (DISPLAY)
1-2
2-3
Monochrome
Colour
Jpip (PIPELINE)
1-2
OPENED
N/A
Non-pipeline mode
Jrom
1-2
OPEN
512Kb Rom size
256Kb Rom size
Upgrades
Battery : Tadiran 3.6V Lithium connected at location Jbt.
Maths Co-Processor : This system will support the Intel 80387DX math co-processor and the Weitek WTL3167 math co-processor. The co-processor is installed at location U34. The speed of the chip must match the speed of the system. For example, 80387DX-33 for a 33MHz system.
RAM :

2MB standard Maximum on Motherboard 32 MB
SHADOW BIOS Enabled DOES NOT affect Extended Memory.
No jumper setting required.
Recommended SIMM speed is 80ns.
The Users Manual Shows a configuration with the 256K SIMMs in bank 0 and the 1MB SIMMs in bank 1. This configuration will work but may cause intermittent memory situations.
---
---