Packard Bell 55 M/Board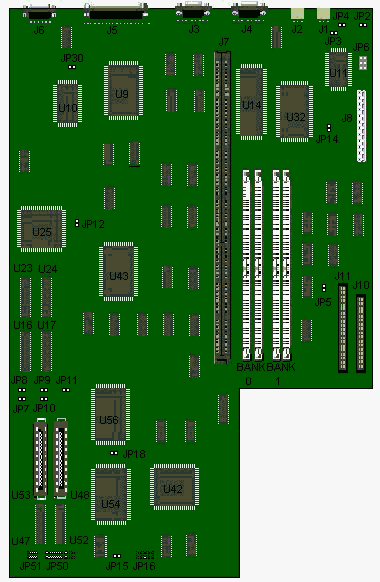 Specification
Battery : Tadiran 3.6V Lithium connected at location JP6.
BIOS : 128K Phoenix BIOS Rel. D 1.01.07. To access setup, Ctrl-Alt-Esc
Bus Architecture : ISA based system bus
Cache : 16kb SRAM soldered on motherboard 32kb (2) 8Kbx8 (25ns) in U48 and U53 (optional). When 32k cache is installed on system, the CACHE32.COM program must be run to activate the cache on BIOS versions 1.10.14 and under.
CPU : 80386SX-20 MHz. Turbo Switch Switchable Switch LED Speed : In Amber 8 MHz, Out Green 20 MHz
Interfaces :

1 DB-25 Parallel Port
2 DB-9 Serial ports
1 PS/2 Keyboard Port
1 PS/2 mouse port
1 Ext. VGA Conn on expansion slot

RAM : 2MB standard/16MB maximum. Use 256K, 1,or 4MB SIMMs, 80ns.
Speaker : Piezoelectric onboard. Ext speaker can attach to JP16
Video : Paradise Extended VGA Capable of 1024 X 768 @ 16 colours
Video RAM : 512K
Jumpers
Function
Jumper
Description
Reserved (JP2)
OPEN
CLOSED
Reserved
Reserved
Monitor Type (JP3)
OPEN
CLOSED
Monochrome
Colour
Reserved (JP4)
OPEN
CLOSED
Reserved
Reserved
PS/2 Mouse IRQ 12 (JP5)
OPEN
CLOSED
Do not Use IRQ 12
Use IRQ 12
800x600 Frequency (JP7)
OPEN
CLOSED
V-56Hz, H-35.2KHz
V-60Hz, H-37.8KHz
Monitor Timing (JP8)
OPEN
CLOSED
PS/2, Others
Multi-Sync One
Video BIOS (JP9)
OPEN
CLOSED
AT VGA Mode
PS/2 VGA Mode
Reserved (JP10)
OPEN
CLOSED
Reserved
Reserved
Reserved (JP11)
OPEN
CLOSED
Reserved
Reserved
On-Board VGA (JP12)
OPEN
CLOSED
Disabled
Enabled
Non Volatile RAM (JP14)
OPEN
CLOSED
Do not Clear CMOS
Clear CMOS
Speaker Selection (JP15)
OPEN
CLOSED
Off-Board Speaker
On-Board Speaker
Reserved (JP18)
OPEN
CLOSED
Reserved
Reserved
Printer Port Type (JP30)
OPEN
CLOSED
PS/2 Bi-Directional
Centronics
Upgrades
Battery : Tadiran 3.6V Lithium connected at location J16.
Cache : There are two 28-pin SRAM sockets, which upgrades the 16K cache to 32K, located at U48 and U53. The speed of the SRAM chips must be 25ns or faster.
Maths Co-Processor : This system supports the 80387SX-20 math co-processor. It is installed at location U42. No jumper settings are required.
RAM : 2MB standard/16MB maximum. Use 256K, 1MB,or 4MB SIMMs, 80ns. Shadow BIOS Enabled takes 128Kb off of Extended Memory. No jumper setting required.
---
---