Packard Bell 860 M/Board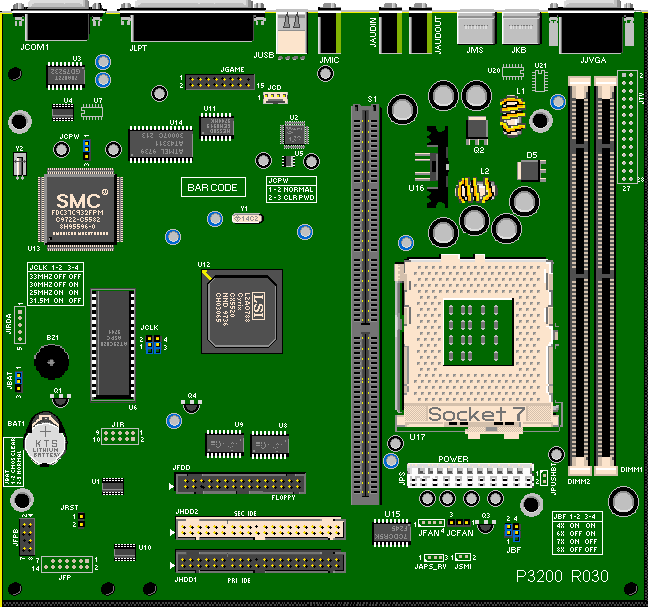 Specification
Note - This motherboard is currently in development. The information contained in this overview is subject to change.
Battery : Socketed 3 volt Lithium coin cell battery.
BIOS : Flash EEPROM. System BIOS by Phoenix. Plug and Play 1.0a spec., support for Windows 95.
Bus Architecture : PCI 2.1/ISA based system bus. 66MHz maximum bus speed.
Cache : 16K level 1 cache. No level 2 cache.
Chipset : SMC932 Super I/O Controller.
CPU : Cyrix GXM 200/220/233/250/266 MHz Processor. Uses Type 7 CPU Zero Insertion Force (ZIF) CPU Socket.
Interfaces :

DB-9 Serial port for COM2.
DB-25 Parallel port.
PS/2 keyboard port.
PS/2 mouse port.
USB connector.
VGA DB-15 VGA port.
Soft On/Off 4-pin locking header.
34-pin on-board FDD header connector.
40-pin PCI IDE (fast PIO-4) HDD Connector.
34-pin VESA Feature header connector.
5-pin Infrared serial header connector.
2-pin Sleep Mode Support header.

RAM : 8MB installed standard/128M maximum. Uses 4/8/16/32/64 MB -168pin DIMMs, Default setting for SDRAM is 66 MHz. Supports only non-parity DRAM. There is no EDO DRAM support.
Speaker : On-board piezo speaker.
UART : Two 16C550A Compatible chips.
Video : Integrated.
Video RAM : 2MB Non Upgradable.
---
---