Packard Bell 980 M/Board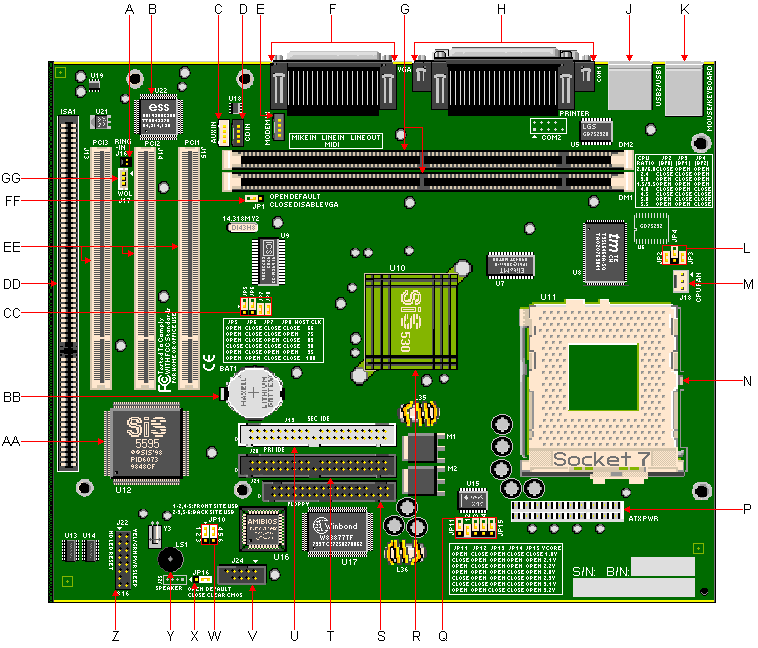 | Item | Description | Item | Description |
| --- | --- | --- | --- |
| A | Ring-In Header | S | FDD Connector |
| B | ESS1938 Audio Controller Chip | T | Primary IDE Connector |
| C | Aux In Connector | U | Secondary IDE Connector |
| D | CD In Connector | V | Front USB Connector (J24) |
| E | Modem In Connector | W | Jumper Block JP10 |
| F | MIDI/Game Port & Audio Jacks | X | CMOS Clear Jumper (JP16) |
| G | DIMM Slots | Y | Piezo Speaker |
| H | Parallel, Serial & VGA Ports | Z | Front Panel Connector Header |
| J | Dual USB Ports | AA | SiS 5595 AGP/PCI/ISA Controller Chipset |
| K | PS/2 Keyboard & Mouse Ports | BB | Battery |
| L | Jumpers - JP2, JP3, JP4 | CC | Jumpers - JP5, JP6, JP7, JP8 |
| M | CPU Fan Power Connector | DD | ISA Slot |
| N | CPU ZIF Socket (Socket 7) | EE | PCI Slots |
| P | Primary Power Connector | FF | Jumper JP1 |
| Q | Jumpers - JP11, JP12, JP13, JP14, JP15 | GG | Wake-On-LAN Header |
| R | SiS 530 AGP Graphics Chipset | | |
Specification
Audio : ESS Solo 1
Battery : Socketed 3 volt Lithium coin cell battery
BIOS : Flash EEPROM. System BIOS by AMI
Bus : PCI 2.2/ISA based system bus. Supports CPU bus clock 55/60/66/75MHz. Supports 27.5/30/33MHz PCI bus speed
Cache : 16K level 1 cache. 512K level 2 cache, non-upgradeable
Chipset : SiS 530/5595 AGP/PCI/ISA Controller Chipset
CPU : This motherboard utilizes a 321-pin ZIF socket (Socket 7) and supports the following CPUs:

Pentium P55C 166 - 233MHz
Cyrix 6x86L, PR120+ - 200+
Cyrix 6x86MX, PR133 - PR350
Cyrix 6x86 MII 266 - 350
AMD-K5/K6/K6-2/K6-3 166 - 400MHz

Interfaces :

1 DB-9 Serial port
1 DB-25 Parallel port
1 DB-15S VGA Video port
1 PS/2 keyboard port
1 PS/2 mouse port
2 USB ports
3 Stereo mini-jacks for Speaker Out, Line In & Mic In
1 DB-15 MIDI/Game port

RAM : 2 168-pin DIMM sockets, upgradeable to 256MB total SDRAM Supports PC66/PC100 Synchronous DRAM (Non-ECC/Parity)
Video : Integrated in the SiS 530/5595 AGP/PCI/ISA Controller Chipset
Video RAM : Intgrated VGA controller supports 2, 4 and 8MB SDRAM
Jumpers
Jumper
Function
Configuration
JP16
CMOS/Password Clear
Open - Normal Operation
Closed - Clear CMOS Data
Front/Back USB Port Select Jumper Block (JP10)
USB Port
JP10 Settings
Front (J24)
1-2 Closed
4-5 Closed
Back (J5-1)
2-3 Closed
5-6 Closed
CPU/DRAM Clock Selection
CPU/DRAM Clock
(MHz)
JP5
JP6
JP7
JP8
66
Open
Closed
Closed
Closed
75
Open
Closed
Open
Open
83
Open
Closed
Open
Closed
90
Closed
Closed
Closed
Closed
95
Open
Closed
Open
Open
100
Open
Open
Closed
Closed
CPU/Bus Speed Ratio Select
| Intel CPU/Bus | JP2 | JP3 | JP4 |
| --- | --- | --- | --- |
| X1.5/X3.5 | Open | Open | Open |
| X2.0/X6.0 | Closed | Open | Open |
| X2.5 | Closed | Closed | Open |
| X3.0 | Open | Closed | Open |
| X4.0 | Closed | Open | Closed |
| X4.5 | Closed | Closed | Closed |
| X5.0 | Open | Closed | Closed |
| X5.5 | Open | Open | Closed |
Processor Core Voltage Select (VCORE)
| Vcore | JP11 | JP12 | JP13 | JP14 | JP15 |
| --- | --- | --- | --- | --- | --- |
| 1.8v | Open | Closed | Open | Closed | Closed |
| 2.1v | Closed | Open | Open | Open | Open |
| 2.2v | Open | Closed | Open | Open | Open |
| 2.8v | Open | Open | Open | Closed | Open |
| 2.9v | Closed | Open | Open | Closed | Open |
| 3.1v | Closed | Closed | Open | Closed | Open |
| 3.2v | Open | Open | Closed | Closed | Open |
Upgrades
Cache Upgrade. The 980 motherboard comes with 0 or 512K Level 2 cache. The cache is not upgradeable.

CPU Upgrade. Zero Insertion Force (ZIF) socket. Uses the 321-pin Type 7 CPU Socket. Not keyboard switchable. Disable cache to slow down the system.This motherboard can accommodate the following CPUs:

Pentium P55C 166 - 233MHz
Cyrix 6x86L, PR120+ - 200+
Cyrix 6x86MX, PR133 - PR350
Cyrix 6x86 MII 266 - 350
AMD-K5/K6/K6-2/K6-3 166 - 400MHz

RAM Upgrade. Maximum on Motherboard: 256MB. Uses 8/16/32/64/128 MB DIMMs, 60ns or faster EDO SDRAM DIMMs. Supports only non-parity DIMM modules. The 168-pin DIMM sockets will support PC66/PC100 unbuffered 3.3V 1MBx64 (8MB), 2MBx64 (16MB), 4MBx64 (32MB), and 8MBx64 (64MB) and 16MBx64 (128MB) SDRAM DIMMs. Bank 1 will be populated as the default from the factory. No configuration jumpers: BIOS detects memory size, and memory type. This motherboard will not accept 36-bit DIMM modules (parity).
Issues
Installing A Third Party Video Card
There is a jumper on the motherboard, located near the DIMM sockets. This jumper is labelled JP1 and has the words Open Default and Closed Disable VGA. This will disable the onboard video when the 2 pins of the jumper are covered.
Portions Of The Display Are Blocky When Playing 3D Games
There is no resolution to this situation. This is a hardware limitation.
---
---