Packard Bell Houston 3+ M/Board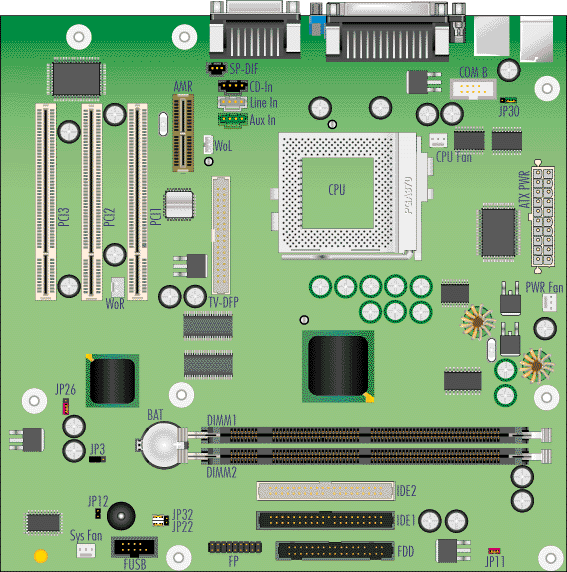 Specification
Audio : SigmaTel STAC9700 Codec
BIOS : AMI BIOS.
Chipset : Intel 810 chipset consisting of the Intel 82810 Graphic Memory Controller Hub (GMCH) and the 82801 I/O Controller Hub (ICH).
CPU Support : Socket 370.

Supports Intel Celeron PPGA processor 366/66, 400/66, 433/66, 466/66, 500/66 MHz and faster.
Supports Intel PIII Coppermine FC-PGA (Flip-Chip Pin Grid Array) processor 600/100, 650/100, 700/100 MHz and faster.
Warning: not all the above processors have been qualified by Packard Bell.
66/100 MHz Host bus speed processors are supported.

Expansion Slots : 3 PCI slots.
Form Factor : 24.4 x 21.0 cm Form Factor
RAM :

Up to 256 MB (64-bit technology) or 512 MB (128-bit technology) total memory in one or two DIMM sockets.
SDRAM 64/128-bit non-ECC DIMMs
Single or double sided 3.3 V DIMMs, 60 ns CAS Latency 2/3, 66 or 100 MHz SDRAMS.
The motherboard automatically detects the size and type of the memory used.

Video : Integrated in chipset.
Jumpers
Jumper
Configuration
JP3 - Clear CMOS
1-2 : Normal operation (default)
2-3 : Clear CMOS settings (keep system unplugged for 5 seconds)
JP11 - Set Suspend to RAM
Open: Disable STR (default)
Closed : Enable STR
JP26 - Set Flash Memory
1-2 : Normal (default)
2-3 : Restore Settings
Open : Recovery
JP22 + JP32 - USB
1-2, 1-2 : Front USB on (default)
2-3, 2-3 : Top rear USB on
JP30 - Set USB Keyboard Wakeup
1-2 : USB keyboard wakeup disabled (default)
2-3 : USB keyboard wakeup enabled
JP31 - Audio CODEC selection
1-2 : Primary
2-3 : Disable CODEC
Open: Secondary
---
---