Packard Bell Miami M/Board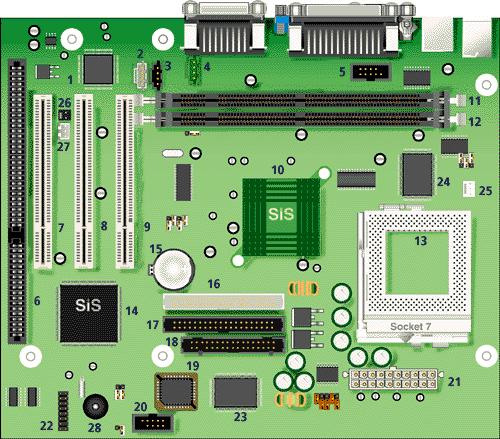 | Item | Description | Item | Description |
| --- | --- | --- | --- |
| 1 | Solo 1 ESS sound chip | 2 | Aux In |
| 3 | CD-ROM In | 4 | Modem In |
| 5 | COM2 header | 6 | ISA slot (shared) |
| 7 | PCI 3 Slot (shared) | 8 | PCI 2 slot |
| 9 | PCI 1 slot | 10 | SIS 530 |
| 11 | Bank 1 DIMM | 12 | Bank 0 DIMM |
| 13 | CPU Socket 7 | 14 | SIS 5595 PCI/ISA bridge |
| 15 | Lithium battery | 16 | Secondary IDE, up to 2 IDE devices |
| 17 | Primary IDE, up to 2 IDE devices | 18 | Floppy connector, 34 pin FDD connector |
| 19 | Flash BIOS | 20 | Front USB header |
| 21 | Main Power input | 22 | Front Panel connector |
| 23 | I/O controller | 24 | Cache |
| 25 | CPU FAN header | 26 | Ring-In |
| 27 | WOL header | | |
Specification
Audio : ESS Solo-1.
BIOS : AMI BIOS.
Cache : 512KB write back direct mapped pipeline burstcache.
Chipset : SIS 530 & 5595 chipset.
CPU Support : Socket 7 processors: Intel Pentium P55C, Cyrix MII, AMD K6-2.
Expansion Slots : 2 PCI slots and 1 shared ISA/PCI slot.
Form Factor : MicroATX
RAM : 2 DIMM sockets supporting single- or double-sided SDRAM up to a maximum of 512 MB.
Video : Integrated in chipset.
Upgrade Options
CPU : CPU upgradable up to 450 MHz.
RAM :
RAM upgradable up to 512 MB using 66 or 100 MHz SDRAM DIMMs.
The Miami motherboard only accepts 168-pin DIMM modules. Only gold-plated DIMMs may be used, as the sockets on the motherboard are also gold-plated, and oxidation must be prevented.
Use 60 ns, 3.3 V CAS Latency 2, single- or double-sided DIMMs only. Parity is not supported.
Jumpers
Jumper
Function
Configuration
JP18
CMOS/Password Clear
Open - Normal Operation
Closed - Clear CMOS Data
Onboard VGA (JVSB1)
| Pins | Function |
| --- | --- |
| OFF | Enable onboard video |
| ON | Disable onboard video |
Front/Back USB Port Select Jumper Block (JP10)
| USB Port | JP10 Settings |
| --- | --- |
| Front | 1-2, 4-5 |
| Back | 2-3, 5-6 |
CPU/DRAM Clock Selection
CPU/DRAM Clock
(MHz)
JP5
JP6
JP7
JP8
66
OFF
ON
ON
ON
75
OFF
ON
ON
OFF
83
OFF
ON
OFF
ON
90
ON
ON
ON
ON
95
OFF
ON
OFF
OFF
100
OFF
OFF
ON
ON
CPU/Bus Speed Ratio Select
| Intel CPU/Bus | JP2 | JP3 | JP4 |
| --- | --- | --- | --- |
| X1.5/X3.5 | OFF | OFF | OFF |
| X2.0/X6.0 | ON | OFF | OFF |
| X2.5 | ON | ON | OFF |
| X3.0 | OFF | ON | OFF |
| X4.0 | ON | ON | ON |
| X4.5 | ON | OFF | ON |
| X5.0 | OFF | ON | ON |
| X5.5 | OFF | OFF | ON |
CPU & I/O voltage
| Voltage | JP11 | JP12 | JP13 | JP14 | JP15 |
| --- | --- | --- | --- | --- | --- |
| 1.8v | OFF | ON | OFF | ON | ON |
| 2.1v | ON | OFF | OFF | OFF | OFF |
| AMD K6-2: 2.2v | OFF | ON | OFF | OFF | OFF |
| Intel Pentium: 2.8v | OFF | OFF | OFF | ON | OFF |
| Cyrix M2: 2.9v | ON | OFF | OFF | ON | OFF |
| 3.1v | ON | ON | OFF | ON | OFF |
| 3.2v | OFF | OFF | ON | ON | OFF |
---
---