Packard Bell Pegasus M/Board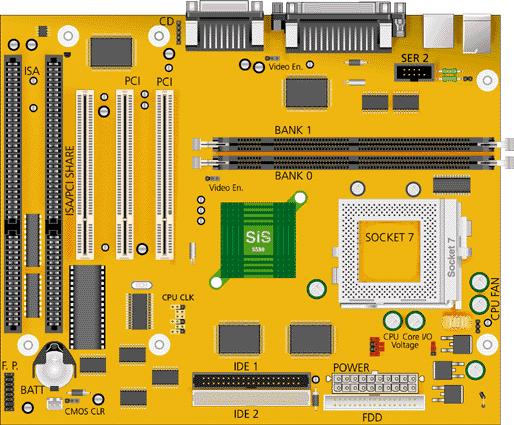 Specification
Audio : On board ESS ES1869.
BIOS : AWARD BIOS.
Cache : 512 kB Pipeline Burstcache integrated on motherboard. Not upgradable.
Chipset : Sis 5598 ISA/PCI chip.
CPU Support : Socket 7 processors: Intel Pentium 90-233 MMX, Cyrix M2, AMD K6-2.
Expansion Slots: 1 ISA slot, 2 PCI slots, 1 shared ISA/PCI slot.
Form Factor : MicroATX
RAM : 2 DIMM sockets supporting single or double-sided SDRAM up to a maximum of 256 MB.
Video : Integrated in chipset, uses main RAM as video memory.
Upgrade Options
RAM :

Maximum on Motherboard: 256 MB
Uses 8/16/32/64/128 MB DIMMs, 60ns or faster EDO SDRAM DIMMs
Supports only non-parity DIMM modules.
The 168-pin DIMM sockets will accept 3.5 V 1 MBx64 (8 MB), 2 MBx64 (16 MB), 4 MBx64 (32 MB), 8 MBx64 (64 MB), and 16 MBx64 (128 MB) DIMMs.
Bank 0 will be populated as the default from the factory.
No configuration jumpers: BIOS detects memory size, and memory type.
This motherboard will not accept 36-bit DIMM modules (parity).

Video Memory:

The video controller is integrated on the motherboard and the amount of video memory (4 MB) is not upgradeable.

Cache Memory:

This system has 512 KB cache memory integrated on the motherboard and it is not upgradeable.

Processors :

Motherboard can accommodate the following CPUs: Intel P54C/P55C: 75 - 233 MHz, AMD K6: 266 MHz, AMD K6-2: 300 - 333 MHz, Cyrix MII: 266 - 333
When upgrading the CPU, use the CPU Clock Selection jumpers (JP14, JP15, and JP16) to set the host bus frequency and the CPU/Bus Speed Selection jumpers (JP1, JP2, and JP3) to set the clock multiplier.
Configuring the motherboard for Intel CPUs
JP1
Rest
CPU
V0
V1
V2
V3
JP6
SW1
SW2
SW3
SW4
SW5
SW6
Pentium 90
OFF
OFF
OFF
ON
OFF
ON
OFF
OFF
OFF
OFF
OFF
Pentium 100
OFF
OFF
OFF
ON
OFF
OFF
OFF
OFF
OFF
OFF
OFF
Pentium 120
OFF
OFF
OFF
ON
OFF
ON
OFF
OFF
ON
OFF
OFF
Pentium 133
OFF
OFF
OFF
ON
OFF
OFF
OFF
OFF
ON
OFF
OFF
Pentium 150
OFF
OFF
OFF
ON
OFF
ON
OFF
OFF
ON
ON
OFF
Pentium 166
OFF
OFF
OFF
ON
OFF
OFF
OFF
OFF
ON
ON
OFF
Pentium 200
OFF
OFF
OFF
ON
OFF
OFF
OFF
OFF
OFF
ON
OFF
Pentium 166 MMX
OFF
OFF
OFF
ON
OFF
OFF
OFF
OFF
ON
ON
OFF
Pentium 200 MMX
OFF
OFF
OFF
ON
OFF
OFF
OFF
OFF
OFF
ON
OFF
Pentium 233 MMX
OFF
OFF
OFF
ON
OFF
OFF
OFF
OFF
OFF
OFF
OFF
Configuring the motherboard for other CPUs
JP1
Rest
CPU
V0
V1
V2
V3
JP6
SW1
SW2
SW3
SW4
SW5
SW6
Cyrix M2 300
ON
OFF
OFF
ON
OFF
OFF
ON
ON
OFF
ON
OFF
AMD K6-2 333
OFF
ON
OFF
OFF
OFF
OFF
OFF
OFF
OFF
ON
ON
AMD K6-2 366
OFF
ON
OFF
OFF
OFF
OFF
OFF
OFF
OFF
OFF
ON
Jumpers
Jumper
Function
Configuration
JP2
CMOS Clear
1-2 - Normal Operation
2-3 - Clear CMOS Data
Open - Disable Battery
Onboard VGA (JP16, JP25)
Jumper
Pins
Function
JP16
1-2
2-3
Disable onboard video
Enable onboard video
JP25
1-2
2-3
Enable onboard video
Disable onboard video
CPU/DRAM Clock Selection
CPU/DRAM Clock
(MHz)
SW1
SW2
SW3
55
ON
ON
OFF
60
ON
OFF
OFF
66
OFF
OFF
OFF
75
OFF
ON
ON
CPU/Bus Speed Ratio Select
| Intel CPU/Bus | SW4 | SW5 | SW6 |
| --- | --- | --- | --- |
| X1.5/X3.5 | OFF | OFF | OFF |
| X2.0 | ON | OFF | OFF |
| X2.5 | ON | ON | OFF |
| X3.0 | OFF | ON | OFF |
| X4.0 | ON | OFF | ON |
| X4.5 | ON | ON | ON |
| X5.0 | OFF | ON | ON |
| X5.5 | OFF | OFF | ON |
Core Voltage - JP1
| Voltage | VO | V1 | V1 | V3 |
| --- | --- | --- | --- | --- |
| 2.1v | ON | OFF | OFF | OFF |
| 2.2v | OFF | ON | OFF | OFF |
| 2.3v | ON | ON | OFF | OFF |
| 2.8v | OFF | OFF | OFF | ON |
| 2.9v | ON | OFF | OFF | ON |
| 3.2v | OFF | OFF | ON | ON |
| 3.3v | ON | OFF | ON | ON |
| 3.5v | ON | ON | ON | ON |
I/O voltage - JP6
| Voltage | JP6 |
| --- | --- |
| 3.3v | OFF |
| 3.45v | ON |
---
---