Packard Bell Skye M/Board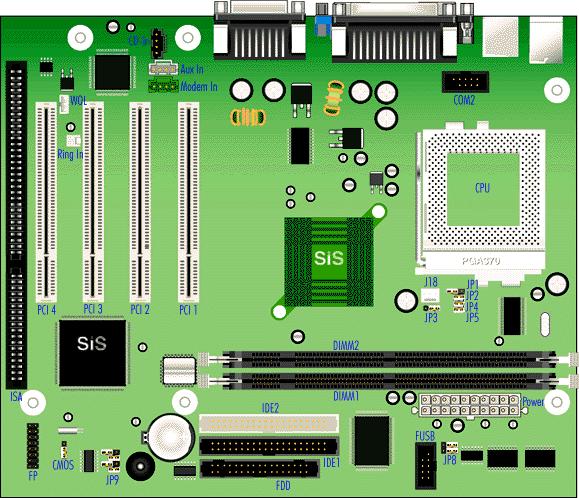 Specification
Audio : ESS Solo 1.
BIOS : AWARD BIOS.
Cache : Integrated in CPU.
Chipset : SiS620/SiS5595 AGP/PCI/ISA Chipset.
CPU Support : Socket 370 processors: Intel Celeron PPGA 366, 400, 433 and 466 MHz.
Expansion Slots : 3 PCI slots and 1 shared ISA/PCI slot.
Form Factor : MicroATX
RAM : 2 DIMM sockets supporting single- or double-sided SDRAM up to a maximum of 256 MB.
Video : Integrated in chipset.
Upgrade Options
Processors : CPU upgradeable up to 466 MHz.
RAM : RAM upgradeable up to 256 MB using 66 or 100 MHz SDRAM DIMMs. This motherboard only accepts 168-pin DIMM modules. Only gold-plated DIMMs may be used, as the sockets on the motherboard are also gold-plated, and oxidation must be prevented. Use 60 ns, 3.3 V CAS Latency 2, single- or double-sided DIMMs only. Parity is not supported.
Jumpers
Jumper
Function
Configuration
CMOS
CMOS/Password Clear
2-3 - Normal Operation
1-2 - Clear CMOS and password (if power cord is unplugged)
Onboard VGA (JP3)
Jumper
Pins
Function
JP3
2-3
1-2
Enable onboard video
Disable onboard video
USB ports (JP8)
Jumper
Pins
Function
JP8
1-2,4-5
2-3,5-6
Front USB on, Back top USB off
Back top USB on, Front USB off
Front Bus Speed and Memory Speed.
| Bus Speed | Memory Speed | JP1 | JP2 | JP3 | JP4 |
| --- | --- | --- | --- | --- | --- |
| 66 | 66 | ON | ON | ON | OFF |
| 66 | 100 | OFF | ON | ON | ON |
| 100 | 66 | OFF | OFF | ON | ON |
| 100 | 100 | OFF | ON | OFF | ON |
CPU/Bus Speed Ratio Select - JP9
| Intel CPU/Bus | 1-2 | 3-4 | 5-6 | 7-8 |
| --- | --- | --- | --- | --- |
| X3.5 | ON | ON | OFF | OFF |
| X4.0 | ON | OFF | ON | ON |
| X4.5 | ON | OFF | OFF | ON |
| X5.0 | ON | OFF | ON | OFF |
| X5.5 | ON | OFF | OFF | OFF |
| X6.0 | OFF | ON | ON | ON |
| X6.5 | OFF | ON | OFF | ON |
---
---