Advent 6522 Laptop
Specification
CPU
Intel Celeron 1.3GHz
BIOS
AMIBIOS. Press DEL to enter
Chipset
SIS 630
Memory
512MB PC133 SODIMM (2 memory slots. Max 1GB)
Hard Drive
30GB Toshiba MK3017GAP
CD Drive
Matshita UJDA 710 Combo drive
Floppy Drive
Floppy disk drive fitted
Screen
15" TFT (Native Res.1024x768)
Video Card
SiS 630/730 (up to 64MB shared)
Sound Card
SiS 7018
Modem
SmartLink 56K
Network Card
SiS 900
PC Card
1x Type I/II/III
Ports
1x IR
1x Kensington Lock
1x USB
1x Modem
1x PS/2
1x Microphone
1x Headphone
1x S-Video (TV-Out)
1x VGA
1x Serial
1x Parallel
1x LAN
Dimensions
39.5 x 315 x 256 (HxWxD in mm)
Weight
3kg
Made By
Gericom Webgine (N340S8)
Drivers
Your laptop should have been supplied with a utility CD which contains a backup copy of all the drivers.
The 6522 is basically a rebadged Gericom Webgine N340S8 (you should see this printed on the underside of the laptop) so you can download the drivers from Gericom's website.
Memory Upgrades
Remove the keyboard by releasing the 3 retractable clips at the front of the keyboard with a small screwdriver (clips are below the 'Fn', 'Alt Gr', and 'Down Arrow' keys).
Lift the keyboard clear of the notebook, there is a ribbon cable attached to the keyboard so take care.
Now lift the metal keyboard protector from the case.
Next remove the metal cover in the middle of the case (held in by two screws).
You now have access to the 2 memory slots.
Adding RAM is the most cost effective way to boost your computer's performance.
Bottom of Laptop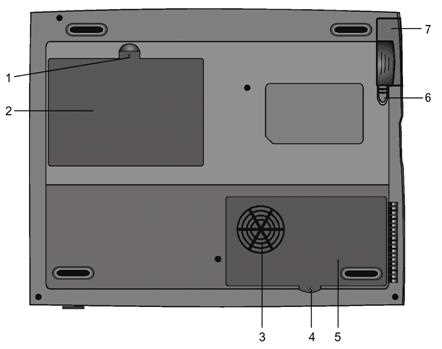 1. Fixing screw
2. Hard drive bay
3. CPU heatsink / fan grill
4. Fixing screw
5. CPU heatsink cover
6. Battery latches
7. Battery pack
Function Keys
FN + F1 - Hibernate
FN + F3 - Battery Low Warning Beep on/off
FN + F4 - Toggle the display between LCD, CRT, LCD+CRT
FN + F5 - Increase volume
FN + F6 - Decrease volume
FN + F7 - Increase brightness
FN + F8 - Decrease brightness
FN + Num Lock - Activate Numeric Keypad
Note - The Fn + F9/F10 contrast control keys don't work on the 6522 as it has a TFT display. These keys are only designed to work on older models using Dual Scan DSTN screens.
In the Box
Disks Supplied
Advent 6522 recovery CD
Notebook utility CD
Nero burning ROM CD, OEM
PowerDVD CD
Items Supplied
Advent 6522 notebook
Mains power adapter
Mains power cable
UK modem cable
BT connector
Documentation Supplied
User manual
Advent installation and troubleshooting guide
"Windows XP start here" guide
Recovery
Warning: this process will erase all files from your computer. It is important that you save any personal files to disk before you begin.
A Bootable Recovery CD is supplied with these machines. To recover the system:-
Insert CD into the drive.
Reboot the PC.
A warning message prompting you to backup data before proceeding.
Press Y to continue.
A final warning that all data will be erased is displayed.
Press Y to continue.
Finally a message "Remove CD-ROM when prompted" is displayed.
Press Y to continue.
The image file will load. Once complete you will be prompted to remove the CD and press CTR + ALT + DEL to restart.
Driver CD
The notebook is supplied with a Utility CD. This can be used to restore corrupt drivers. The folders on the CD contain the following -
Driver: Drivers for all the hardware.
Manual: This folder contains individual PDF files for each chapter
Utility: Flash BIOS Utilities, HDPrepare, QKey
Useful Links
Repairs and Spares
All official service and support is handled by Knowhow (basically "The Tech Guys" under a new name), their website is http://www.knowhow.com/. If you laptop is covered under warranty then you need to contact them for repairs.
There are also plenty of other companies that do repairs or supply spare parts, here is a selection -
TechnoMart - http://www.techno-mart.co.uk
PartMaster (spare parts) - http://www.partmaster.co.uk
FAQ
Replacing the CMOS Battery
To get to the CMOS battery you need to remove the CPU heatsink cover underneath the laptop. The battery is a coin sized CR2025. If you have problems reaching the battery then you'll need to take out the CPU heatsink, to do this remove the 4 screws holding it in and lift out carefully.
Repairing a Broken Charger Socket
Kyle Millican has put together a guide for repairing a broken charger socket on this laptop. The guide is in PDF format and can be downloaded from here - Kyle Millicanís - Advent Laptop Charger Socket Repair Guide (2MB)
---
---